Module 1: Introduction to Retailing
Strategic Planning in Retail Management
What you'll learn to do: Explain the concept of strategic planning within the retail management decision process
Even the best laid out plans can fail with the absence of a well defined roadmap.  Strategy is a vital component of any retail organization for several key reasons.  First, it allows you to understand your company as well as your history, your company's history, and your overall industry.  A key component of strategy is to write them down and incorporate them into the policy, mission statement, and vision of the company.  You might have heard the phrase:  "The best-laid plans of mice and men often go awry."  However, when things go awry the company can return to the initial strategy of the gap they are trying to fulfill within the marketplace.  This allows them to understand the competitive advantage they have in the industry as well.  In addition, it would allow them to understand the weaknesses and strengths they possess that would hinder or help growth within the organization.  Lastly, it would also help them focus on whether or not they are placing efforts and resources on those areas that will drive productivity and profitability.
Before we begin let's take a look at Tesco, profit wise it is the third largest retailer, and how retail strategy benefits them.  Imagine the scope of a business with stores in seven countries.  Why is strategy imperative in a business this large?  We will address these questions in our next few modules.
Learning Outcomes
Differentiate between macroenvironment and microenvironment considerations in strategic planning
Classify the general steps of strategic planning in retail
Explain the retail mix
Explain the retailing concept
Microenvironment vs. Macroenvironment
Business (or Strategic) management
is the art, science, and craft of formulating, implementing and evaluating decisions that will enable an organization to achieve its long-term objectives. It is the process of specifying the organization's mission, vision and objectives, developing policies and plans, often in terms of projects and programs, which are designed to achieve these objectives, and then allocating resources to implement the policies and plans, projects and programs.
Strategic planning
 is an organization's process of defining its strategy, or direction, and making decisions on allocating its resources to pursue this strategy, including its capital and people. Various business analysis techniques can be used in strategic planning, including SWOT analysis (Strengths, Weaknesses, Opportunities, and Threats ) and PEST analysis (Political, Economic, Social, and Technological analysis) or STEER analysis involving Socio-cultural, Technological, Economic, Ecological, and Regulatory factors and EPISTELS (Environment, Political, Informatic, Social, Technological, Economic, Legal and Spiritual)
Strategic planning is the formal consideration of an organization's future course. All strategic planning deals with at least one of three key questions:
"What do we do?"
"For whom do we do it?"
"How do we excel?"
In business strategic planning, the third question is better phrased "How can we beat or avoid competition?". 
[2]
In many organizations, this is viewed as a process for determining where an organization is going over the next year or more—typically 3 to 5 years, although some extend their vision to 20 years. In order to determine where it is going, the organization needs to know exactly where it stands, then determine where it wants to go and how it will get there. The resulting document is called the "strategic plan".
Strategic planning may also be a tool for effectively plotting the direction of a company; however, strategic planning itself cannot foretell exactly how the market will evolve and what issues will surface in the coming days in order to plan your organizational strategy. Therefore, strategic innovation and tinkering with the 'strategic plan' have to be a cornerstone strategy for an organization to survive the turbulent business climate.
Strategic management seeks to coordinate and integrate the activities of the various functional areas of a business in order to achieve long-term organizational objectives. A balanced scorecard is often used to evaluate the overall performance of the business and its progress towards objectives.
No discussion of strategic planning can ignore the micro and macro factors that are relevant in the success and possible failure of the retail business. The 
business environment
 is a marketing term and refers to factors and forces that affect a firm's ability to build and maintain successful customer relationships. The three levels of the environment are. We will focus on micro and macro factors in this module:
Micro (External) environment – small forces within the company that affect its ability to serve its customers.
Internal environment – can be controlled, however, it can't influence an external environment.
Macro (external) environment – larger societal forces that affect the microenvironment.
Micro Environmental Factors
Micro environments in retail is anything in the immediate environment including suppliers, customers, competitors, and stakeholders.  Any government and other regulating body can be thought of as a stakeholder.  Typically the micro environment is local to the business and any business owner should be well aware of those factors affecting the retail business.
Macro Environmental Factors
Macro environments are often outside of the retailer's control and are typically of a larger scale and are usually of an economic and industry viewpoint.
SWOT Analysis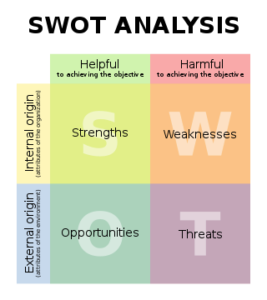 In understanding micro and macro environments a SWOT (Strengths, Weaknesses, Opportunities, and Threats) analysis is commonly used in retail. Strengths and weaknesses are those internal factors impacting an organization while opportunities and threats are external factors that are outside of the organization's control.  Look at these slides reporting on a 
 then let's walk through a SWOT analysis for the GAP below.
Some of the positive internal attributes are franchising opportunities and global brand recognition.  Strengths answer question such as:  What value do we bring to the customer?  What do we do well?  What is making a difference?  Some of the weaknesses include a dependence on outside vendors as well as long term debt.  They also have a dependence on an older consumer.  Weaknesses address questions such as:  What needs improving?  What isn't working?  What do our customers dislike? In looking at those external opportunity factors affecting Gap that are positive you can see they have a market for plus size women's apparel and they are growing the online business.  There is also an opportunity for growth in Asia.  Opportunities address the following questions:  What should be changed?  What should the company start or stop doing?  Finally, threats are those external factors that can't be controlled but are still a consideration.  The Gap has strong competition, slow economic recovery, and increased labor costs.  Threats answer the following questions:  What are the threats to the business?  Are there any economic, political, or customer trends?  Are there any financial threats such as cost or debt?
In addition, PEST (Political, Economic, Social, and Technological) as well as Porter's 5-Forces analysis is also used as a way to understand new competition, the threat of new competition, the bargaining power of suppliers and customers, and the level of competition.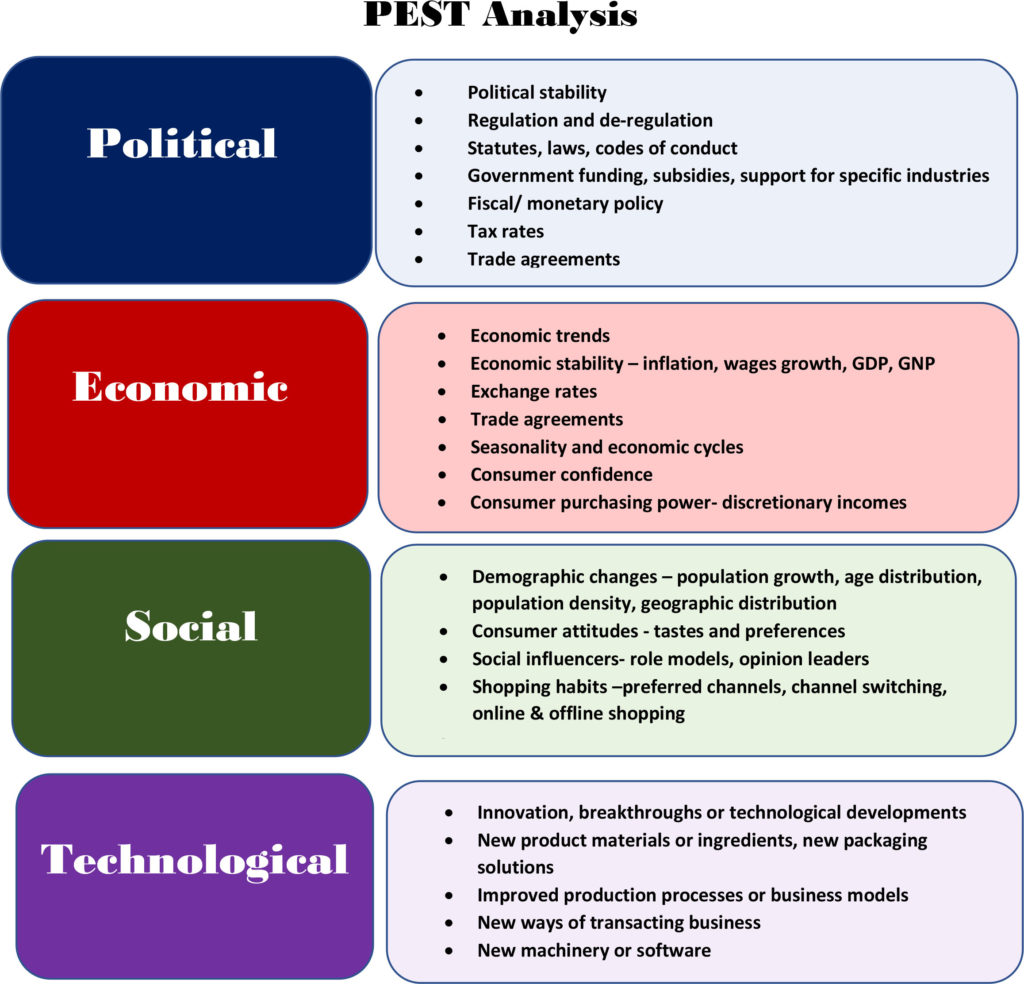 Additional Resources
practice questions
Strategic Planning in Retail
Company strengths and weaknesses
Personal values of the key implementers (i.e., management and the board)
Industry opportunities and threats
Broader societal expectations
The first two elements relate to factors internal to the company (i.e., the internal environment), while the latter two relate to factors external to the company (i.e., the external environment).
 These elements are considered throughout the strategic planning process.
For example, many retailers are trying to respond to customer migration from brick-and-mortar stores to online retailers. What situational, monetary, or product mix is drawing customers away from traditional stores? Imagine a local grocery store chain is trying to compete with Amazon pantry. The local store decides their goal is venture into the world of e-commerce by integrating an online website for customers to order products online, but can pick up their orders at the store. How did this local chain come to this solution and how would they go about it? Here is a quick look at the steps in the strategic retail planning process.
Define the business mission
Conduct a situation audit. This can include a market attractiveness analysis, competitor analysis, self-analysis
Identify strategic opportunities
Evaluate strategic alternatives
Establish specific objectives and allocate resources
Develop a retail mix to implement strategy
Evaluate performance and make adjustments
Here is a video that walks you through the first five steps of the strategic retail planning process.  Afterwards we will discuss how to develop the retail mix to implement the retail strategy as well as evaluating performance.
practice questions
The Retail Mix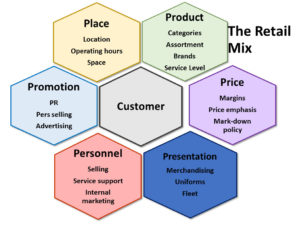 So how do we take our retail planning strategy and put it into an actionable plan?  Part of the success of any retailer is taking that strategic plan and breaking it apart into actionable and meaningful steps that will lead to success.  A well thought out and planned retail mix provides the retailer with a focused position and helps differentiate them from the competition.  A retail mix, defined, is the marketing plan put in place to address key factors such as location, price, personnel, services, and goods.  Retail Mix is also referred to as the "6 P's".
One important thing to keep in mind is that any competitive advantages you have in your strategy should help form your retail mix.  In addition, the retail mix should always have the target market in mind.  The retail mix will differ based on the store and the type of product offered to the customer.
Discussing and evaluating your retail mix in the organization offers a number of benefits.  First, you are addressing the needs of your target market.  In essence it forces the retailer to make the customer top of mind and foremost in all strategy decisions.  It also allows for a business planning strategy within the retailer.  By approaching all six components the retailer is ensuring they are able to meet the needs of the customer using all these components.  Lastly, it allows the retailer to respond to competition.  For example, a key competitor for JCPenney is Kohl's.  If Kohl's drops prices a national brand such as Levi's, JCPenney might follow suit.
Let's now take a look at the components of the
retail mix
that are ultimately the pieces of the retailer's strategy.
1. Price
What is my pricing strategy?  What is my markup strategy and how does that affect my overall retail price?  You must make sure you calculate your retail price based on the markup you receive and not the costs involved.  You also want to think about profitability and relate this back to the goals of your area as well as your organization.
2. Promotion
What promotional tools will you use to influence the consumer's purchase decision and, overall, their intention to purchase?  This is where you also want to make sure you include a budget that shows where resources are allocated as well as a time table for the promotional activities.  Remember to include specific examples of your proposed promotional activities.  Some examples include online promotions, print advertising, and any television advertising.
3. Place
What are the hours of operation for your store?  How many employees do you need and when do you need them?  This is where you can also include a general description of the responsibilities of each associate along with some type of detailed info on the organization's structure.  This could also be dependent upon the area in which you are located as well as the needs of the customer.
4. Product
What type of product do you intend to carry?  What is the depth (how much you will carry of an item) as well as the breadth (number of SKUs) you will carry in your assortment?  What is your anticipated turn as well as inventory levels?  Later we will discuss in more detail the importance of inventory turnover and how it contributes to profitability.  This is where you want to make sure you have adequate inventory levels to meet customer demand.  Too much product could lead to excessive markdowns which deteriorates profitability while too little desired merchandise might lead to missed sales opportunities.  Does your product meet your customer's needs?
5. Presentation
Will you have a free-standing location?  Will you be located in the mall?  How is the location you have chosen a good fit for your target market?  It is during this time you will also want to provide a thorough trade analysis that shows the population in the area and how they are a good fit for your business.
6. Store Image
What is the layout of your store?  What are the graphics that set your store apart?  What does the signage look like inside and outside of your store?  These are all key elements you want to consider.
For the final segment of this section let's take a look at how we the retailer can take the one element of the mix (product) and transform it into a customer experience as well as why this is important.
practice questions
The Retailing Concept
Now that you have a better understanding of the retail marketing strategy and how the retail mix supports the strategy let's round out our Introduction to Retailing by discussing the
Retailing Concept.
There are most certainly a number of environmental, political, economic, and social factors that affect all segments of the retailing industry. In addition, there are also other factors such as customer demand, new technologies, and competition that impact the industry as well. The retailing concept is an idea that examines the evolution of the and transformation of the retail life cycle. This concept was first introduced by Professor McNair from Harvard University.
The retailing concept suggests new retailers will typically begin with low-cost and low-margin operations. The low prices of these retailers are generally due to the low cost and often times cost cutting does attract competition (Stage 1). They will later evolve into a high price and high service operation once they gain more experience in the market and enlarge the customer base. The intent at this point is to increase market share (Stage 2). In the third stage the company is established and the company is able to expand at a moderate pace and attract more customers. At this stage competitors also begin to think about how they can enter the market as well. In stage 4 the retailer is highly established with better products, services, and locations most likely. The cost, and therefore prices, become higher for the retailer in this stage. In this stage competitors can now try to penetrate the market in stage 1.
Let's look at an example of how the retailing concept works using Barnes & Noble as an example.
Stage 1: Barnes & Noble began with a variety of books in one location at a low cost.
Stage 2: Barnes & Noble expanded to various locations thus increasing sales, brand image, value, and profit.
Stage 3: As time progressed Barnes & Noble established themselves, opened even more stores, and saw greater profits. Smaller shops closed down and an increasing number of customers came to Barnes & Noble.
Stage 4: Although Barnes & Noble increased presence in the overall retail landscape they still mostly had traditional brick and mortar stores. Amazon entered the market allowing customers to browse the book selection and have it delivered right to their door step! Consider how much in sales Barnes & Noble might have lost over time due to Amazon's entry to the market!
Can you see how the retailing concept is an evolution? Take a few moments before we move on and see if you can provide an example using your favorite retailer we discussed initially.
Practice Questions
Licenses and Attributions