Module 1: Introduction to Retailing
Careers in Retail
What you'll learn to do: Recognize career opportunities available in the retail businesses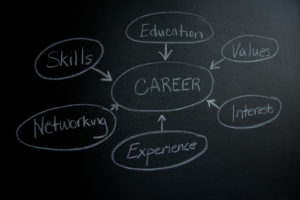 What opportunities do you believe you would be best suited for in retail?  Review the roadmap below to decide where you would be a best fit based on your strengths. If you're not sure yet, you will have a bit more insight by the time you finish the chapter.
For another interesting perspective use the links below to help explore different directions in your career path. You can browse careers in retail and also spend some time looking at future job opportunities!
Learn More
National Retail Foundation Launches Retail Industry Job Board
Learning Outcomes
Identify key roles within retail businesses
List some challenges of working in the retail field
Categorize the general role requirements of a retail manager
Discuss the most valuable skills for a retail manager to possess
Key Roles in a Retail Business
There are a myriad of roles within the retail environment. Before we take a deep dive into the career opportunities, let's explore why one would choose a career in retail. What are some of the reasons you are interested in retail? If you haven't considered it why might you consider it? As you watch the video below can you relate to what is said?
The retail industry offers diverse and unique career paths where you could work for some of the world's most recognizable brands.  Many of the main goals of retail— be it sales and profitability, product innovation, or customer relationships—intersect with other career fields like marketing, finance, technology, loss prevention, merchandising and management. Whether in stores or corporate headquarters many of key roles in retail include internal coordination, planning and logistics, store operations, human resources / training, finance and administration, buying, marketing, logistics, and information technology.
Positions in the retail industry can largely depend on what the company or store is selling. All positions must have some knowledge or familiarity with the products they sell and the needs of customers. At the forefront of the retail team are entry-level positions that tend to have the most face to face time with customers and tend to make up the bulk of the workforce of a company. Positions at this level could be a cashier, stocker, front end or sales associate. Entry level positions do not require a worker to supervise other workers at the same entry level positions.
The next level up would be intermediate management that supervises entry level and other staff. With diverse roles and departments in the retail industry there is a need for distinct types of management to direct and accommodate different areas and departments:
Human resource management
Operations management or production management
Strategic management
Marketing management
Financial management
Information technology management (responsible for the management information systems)
Management in general is the act of engaging with an organization's human talent and using the physical resources at a manager's disposal to accomplish desired goals and objectives efficiently and effectively. Management comprises planning, organizing, staffing, leading, directing, and controlling an organization (a group of one or more people or entities) or effort for the purpose of accomplishing a goal.
One of the most important duties for a manager is effectively using an organization's resources. This duty involves deploying and manipulating human resources (or human capital), as well as efficiently allocating the organization's financial, technological, and natural resources. Since organizations can be viewed as systems, management can also be defined as human action, such as product design, that enables the system to produce useful outcomes.
Basic Functions
Management operates through various functions, such as planning, organizing, staffing, leading/directing, controlling/monitoring, and motivating.
Planning: Deciding what needs to happen in the future (today, next week, next month, next year, over the next five years, etc.) and generating plans for action.
Organizing: Implementing a pattern of relationships among workers and making optimum use of the resources required to enable the successful carrying out of plans.
Staffing: Job analysis, recruitment, and hiring of people with the necessary skills for appropriate jobs. Providing or facilitating ongoing training, if necessary, to keep skills current.
Leading/directing: Determining what needs to be done in a situation and getting people to do it.
Controlling/monitoring: Checking current outcomes against forecast plans and making adjustments when necessary so that goals are achieved.
Motivating: Motivation is a basic function of management because without motivation, employees may feel disconnected from their work and the organization, which can lead to ineffective performance. If managers do not motivate their employees, they may not feel their work is contributing to the overall goals of the organization (which are usually set by top-level management).
Depending on the size of the store and the company structure there will be different types and levels of managerial positions.Most organizations have three management levels: first-level, middle-level, and top-level managers. These managers are classified according to a hierarchy of authority and perform different tasks. In many organizations, the number of managers in each level gives the organization a pyramid structure.
Middle-level managers can include general managers, branch managers, and department managers. They are accountable to the top-level management for their department's function, and they devote more time to organizational and directional functions than upper management. A middle manager's role may emphasize:
Executing organizational plans in conformance with the company's policies and the objectives of the top management;
Defining and discussing information and policies from top management to lower management;
Most importantly, inspiring and providing guidance to lower-level managers to assist them in performance improvement and accomplishment of business objectives.These positions seldom involve any customer contact.
Some examples of middle management in the retail industry include:
Merchandise Manager
Assistant Store Manager
Customer Service Manager
District Sales Manager
Food or Product department Manager
Sales Manager
Store or warehouse Manager
For an extensive list of manger types and titles check out these articles on
Retail Job Titles and Descriptions
 and Types of Jobs in Retail
Retail Career Road Map
Retail Career Road Map: Check out this flowchart to see how different skill sets can take you in a multitude of career paths.


practice questions
Why Working Retail Is Tough
It is important to understand the key challenges retailers face as well as how today's retailer is working to overcome these challenges.
 Inventory Levels and Assortment
Adequate inventory levels are essential for today's retailer. Having too little or too much can have a dramatic affect on the retailer's reputation as well as the consumer's perception. Today's retailers must ensure the right amount of product is available at the right times and in the right places. Mark & Spencer's sales losses in 2012 are a key example of how low inventory levels can affect the reputation of a retailer. First quarter clothing sales were down 6.8% compared to the prior year. There were several reasons but, one was that they didn't order enough inventory for popular items which caused many customers to leave their store without purchasing what they wanted. While having too little inventory is a significant issue, you can also have too much inventory that leads to unprofitable markdowns.
A lack of the right type of inventory also affects customer perception which could, in turn, affect sales.  For example, a customer wouldn't expect to see Christmas trees in August in their favorite retailer. It would signal to the consumer that the retailer doesn't understand the trends or the season. Therefore, the consumer might be influenced to shop elsewhere. Also consider the other potential impacts of inadequate inventory levels as well as not having the right type of assortment for the customer.
Mobile Experience and Engagement
In 2013 mobile was almost 25% ($60 billion) of e-commerce revenue. For any retailer that has online operations this is a significant part of the business. Consumers use their mobile phones for everything from shopping for different prices for products and even shipping costs. More and more are doing this inside of the store as well as outside of the store. In fact, 90% of consumers use smart phones while shopping in the store. So how can retailers push the envelope here to engage the consumer even more? By 2021 mobile revenue is expected to be $420 billion in the United States. An example of a company capitalizing on this trend is Walgreens. More than 60% of the retailer's online traffic is from smartphone devices. Their mobile app includes services such as prescription transfers and Quick Print. In addition, they are partnering with a service called MDLive to provide customers with medical doctors 24/7 via smartphone cameras.
Digital Disruption
Technology is continuously changing the way consumers shop.  There are five stages consumers go through whenever purchasing a product.  These are:
Need recognition
Information search
Evaluating alternatives
Decision to purchase
Post-purchase evaluation.
You have probably experienced this yourself in your own consumption experiences. First there is a recognized need for an item. Then you look for products that fulfill your need. Social media sites such as Facebook, and Instagram have revolutionized how fast and to what extent consumers can receive information about a product which, in turn, helps fulfill the information search stage. Consumers can rate products and share with their friend base on these sites allowing for more information search as well as evaluation of alternatives. They are also able to communicate directly with the company via these social platforms creating an opportunity for them to offer post-purchase evaluation. According to a Deloitte report consumers who utilize social media are four times more likely to make a purchase than those who don't. In addition, 29% are more inclined to make a purchase the same day.
Lastly, it is important to note that there are generational differences in how technology is utilized and received by today's consumer. For example, 47% of millennials are influenced by social media as opposed to 19% of other age groups. Retailers use this information to adapt their marketing strategies based on the target demographics of the products they are selling.
The Socially Conscious Consumer
Consumers have tremendous power to drive trends of which products are available and how those goods are produced. More and more consumers are questioning the political and environmental impact of their purchases which has lead to the rise of the socially conscious consumer. For evidence of this phenomenon, one need look no further than the recent explosion of organic products on the market. Over the last 15 years, organic products have gone from being a little-known niche market to one of the fastest growing, increasingly mainstream sectors in American Agriculture. According to a 2016 press release issued by the United States Department of Agriculture (USDA), the number of certified organic operations in the United States has increased by almost 300% since the agency began keeping records in 2002 with most years seeing double-digit growth in the organics sector. Significantly, growth in demand for organic products continued throughout the economic recession, suggesting that more and more shoppers are convinced that the health and environmental benefits associated with organic products outweigh the higher cost.
Similar growth has been observed in demand for "eco-friendly" or "green" products, particularly among millennials. Citing a 2015 Nielsen study, Michael Hozik of the 
Georgetown Environmental Law Review 
states, "Just over the span of one year, millennials willing to pay more for products and services from companies committed to positive environmental and social change increased from 55% in 2014 to 72% in 2015." In response to increased demand, the number of applications for eco-friendly labels doubled between 2006 and 2007 and the selection of eco-friendly products made available by retailers increased by 73% from 2009 to 2010. Household names like Walmart, Nestle, Proctor & Gamble, Sony, and many more have created ambitious 
targets
 for reducing greenhouse gas emissions and pledged to increase the sustainability of their supply chains. Big name brands are increasingly recognizing the necessity of wooing the growing number of eco-conscious shoppers while also recognizing this trend may cut into their profit margins.
Summary
Above are a few key challenges in detail. However, as I stated before there are numerous others as well. Watch the video below to gain an understanding of a few other challenges that have a significant impact on today's retailer. Consider how these are impacting you now as a consumer and an industry professional. What else do you believe could be some other notable challenges in the future and what actions do you believe today's retailer could take to work through these challenges and stay more competitive in today's environment as well as that of the future?
practice questions
Retail Management Requirements
Middle-Management Roles and Functions
As discussed earlier in this module many retail manager positions fall into the Middle-Management level. Middle-level managers can include general managers, branch managers, and department managers. They are accountable to the top-level management for their department's function, and they devote more time to organizational and Middle managers' roles may include several tasks depending on their department. Some of their functions are as follows:
Designing and implementing effective group work and information systems
Defining and monitoring group-level performance indicators
Diagnosing and resolving problems within and among work groups
Designing and implementing reward systems
Supporting cooperative behavior
Reporting performance statistics up the chain of command and, when applicable, recommending strategic changes
Because middle managers work with both top-level managers and first-level managers, middle managers tend to have excellent interpersonal skills relating to communication, motivation, and mentoring. Leadership skills are also important in delegating tasks to first-level managers.
Middle management may be reduced in organizations as a result of reorganization. Such changes include downsizing, 'delayering' (reducing the number of management levels), and outsourcing. The changes may occur in an effort to reduce costs (as middle management is commonly paid more than junior staff) or to make the organization flatter, which empowers employees, leaving the organization more innovative and flexible.
Front Line Management
At the front line, managers are often highly skilled and even functional specialists. A front line manager is best positioned when they focus on controlling and directing specific employees (think in terms of supervisors, team leaders, line managers, and project managers).
Skill Sets
A front line manager needs to have two distinctive skill sets: the interpersonal skills to manage people as well as the technical expertise to be among the front lines actively executing functional tasks. As a result, frontline managers are often highly valuable team members with the versatility to contribute in various ways.
Core skill sets for frontline managers can change depending on what function they are overseeing. However, on the interpersonal side they should be effective at:
Communicating
Observing and actively listening
Giving and receiving feedback
Prioritizing
Aligning resources
Organizing processes and tasks
Responsibilities
Responsibilities of a frontline manager will therefore come in two flavors. The first is the expertise required to do whatever it is they are managing. If we are talking about an accounting manager, they must be able to balance the books and understand enough of everyone's specific function to fill the gaps. If it is a frontline manager on an automobile manufacturing facility, the manager should be aware of how to run most of the machines and how to assess the productivity of different positions (ideally from experience).
On the managerial side, frontline managers are often tasked with hiring, assessing performance, providing feedback, delegating functional tasks, identifying gaps, maximizing efficiency, scheduling, and aligning teams. As the primary point of contact for most employees, frontline managers must be careful listeners capable of understanding employee needs, removing blockers, and optimizing performance.
Functional Management
Besides the heads of a firm's product and/or geographic units, the company's top management team typically consists of several functional heads (such as the chief financial officer, the chief operating officer, and the chief strategy officer). A functional manager is a person who has management authority over an organizational unit—such as a department—within a business, company, or other organization. Functional managers have ongoing responsibilities and are not usually directly affiliated with project teams, other than ensuring that goals and objectives are aligned with the organization's overall strategy and vision.
General Management
General management focuses on the entire business as a whole. General management duties and responsibilities include formulating policies, managing daily operations, and planning the use of materials and human resources. However, general managers are too diverse and broad in scope to be classified in any one functional area of management or administration such as personnel, purchasing, or administrative services.
General managers include owners and managers who head small-business establishments with duties that are primarily managerial. Most commonly, the term general manager refers to any executive who has overall responsibility for managing both the revenue and cost elements of a company's income statement. This means that a general manager usually oversees most or all of the firm's marketing and sales functions, as well as the day-to-day operations of the business. Frequently, the general manager is responsible for effective planning, delegating, coordinating, staffing, organizing, and decision making to attain profitable results for an organization.
While both general and functional management involve similar skills (interpersonal skills, communication, multitasking, etc.), the critical difference is that a functional manager often "zooms in" to one particular aspect of a broader operational paradigm. The general manager must be more of a jack-of-all-trades, understanding enough about various different gears in the machine to ensure it is running properly.
Mintzberg's Management Roles
Mintzberg defined ten management roles within three categories: interpersonal, informational, and decisional. 
Management is incorporated into every aspect of an organization and involves different roles and responsibilities. Henry Mintzberg (1973), the Cleghorn Professor of Management Studies at McGill University, defined ten management roles within three categories: interpersonal, informational, and decisional.
Each of the three categories embraces the different roles.
Interpersonal
Figurehead: symbolic head; performs a number of routine duties of a legal or social nature.
Leader: motivates and activates subordinates; performs staffing, training, and associated duties.
Liaison: maintains a self-developed network of outside contacts and informers who provide favors and information.
Informational
Mentor: seeks and receives a wide variety of special information (much of it current) to develop a thorough understanding of the organization and environment; emerges as the nerve center of internal and external information for the organization.
Disseminator: transmits information received from outsiders or from other subordinates to members of the organization. Some information is factual; some involves interpretation and integration of diverse value positions of organizational influences. Disseminating what is of value, and how, is a critical informational role.
Spokesman: transmits information (plans, policies, results, etc.) within and outside of the organization; serves as an expert on the organization's industry.
Decisional
Entrepreneur: searches the organization and its environment and initiates improvement projects to bring about change; supervises design of certain projects as well.
Disturbance Handler: takes corrective action when the organization faces important, unexpected disturbances.
Resource Allocator: allocates the organization's resources; makes or approves of all significant organizational decisions.
Negotiator: represents the organization at major negotiations.
A manager's job is never static; it is always dynamic. At any given time, a manager may carry out some combination of these roles to varying degrees, from none of the time to 100 percent of the time. Throughout an individual's working life, a person may hold various management positions that call upon different roles.
No one person can be all things to all people. While these ten roles are highly useful in framing organizational leadership, to expect one person to fill each role in a large organization is impractical. Instead, astute hiring managers will hire people with one or two specific roles in mind, thereby creating a team of managers capable of handling the wide variety of challenges in the business world today.
Managing Organizational Priorities
Defining Agendas
An agenda, particularly from the perspective of an organization or business, is loosely defined as a organized approach toward accomplishing a series of objectives or discussing a series of points. Agendas are most commonly used in short-term settings, such as meetings or a given week's work plans; however, they can also be used as a longer-term strategic planning component.
Business Application
In business, agendas are used to ensure everyone knows what will be discussed in meetings. Agendas should be distributed well before the meeting or discussion to ensure individuals attending have time to prepare their discussion points and to familiarize themselves with what others will be discussing. Reading the agenda in advance ensures that the overarching goals of a given meeting are clear and understood by all participants prior to the discussion.

Agendas may also be used as a means of highlighting current progress and projecting future progress. This type of agenda provides a timeline and tracking mechanisms for participants involved in a given project and may or may not require onsite meetings. Agendas showing project progress are often used by contractors and those in the field of project management.


Keeping Minutes
Agendas are also used broadly in the political and public domain, where meetings held by public institutions, NGOs, or political groups are approached and organized via a given agenda. Public companies have a more important relationship with agendas than private companies, as they are usually required to record meeting minutes. These minutes are essentially a verbatim record of what was discussed and are made available for public viewing and consideration. As these discussions are accessible by any and all stakeholders, the outline and preparation of a valid and relevant agenda is of particularly high importance.


Relevance to Management
Skilled managers construct and implement agendas in organizational settings. Building an agenda requires broad familiarity with all critical components of a given department, project, or organizational objective. Creating a relevant agenda and distributing it to concerned parties in a timely fashion requires organizational ability, communication skills (including the ability to write clearly and concisely), and strategic know-how (knowing what to discuss and in what order). Managers must also be skilled in controlling the pace, tone, and trajectory of discussions at meetings. Agendas are an excellent tool for organizing thoughts and leading discussion.

Following agendas requires a similar set of managerial skills. Ensuring follow-through and keeping employees on task and on schedule requires an ability to multitask—to oversee various aspects of a given operational area simultaneously. Good managers can balance the various interests, operations, and technical skills of a given team to ensure the objectives and timelines set forth in the agenda are carried out.


Skills of a Retail Manager
Robert Katz identifies three critical skill sets for successful management professionals: technical skills, interpersonal (or human) skills, and conceptual skills. Successful managers must possess certain technical skills that assist them in optimizing managerial performance. While these three broad skill categories encompass a wide spectrum of capabilities, each category describes the way in which these skills interact with management at various levels.
Technical Skills of Successful Managers
Defining Technical Skills
Of the three skill sets identified by Katz, technical skills are the broadest, most easily defined category. A technical skill is defined as a learned capacity in just about any given field of work, study, or even play. For example, the quarterback of a football team must know how to plant his feet and how to position his arm for accuracy and distance—both technical skills. A mechanic, meanwhile, needs to be able to deconstruct and reconstruct an engine, to employ various machinery (lifts, computer scanning equipment, etc.), and to install a muffler.
Front-Line Managers' Technical Skills
Managers also need a broad range of technical know-how. All industries need management, and management must exist at various organizational levels. Front-line managers represent a substantial part of management who must use their technical skills daily. Front-line managers must communicate up the chain of command while still speaking the language of the workers who are executing the hands-on components of the industry. A technical skill for a front-line manager might include a working understanding of a piece of equipment: the manager must be able to coach the employee on its operation, as well as communicate to upper managers the basic functions of the machinery.
Technical Skills in Upper Management
In addition to front-line managers, managers in other corporate roles and at higher levels require critical technical skills. These can include office-based competencies such as typing, programming, website maintenance, writing, giving presentations, and using software such as Microsoft Office or Adobe. Office environments require a complex set of communicative, technological, and data-organization skills in order to optimize managerial performance.
Successful managers in an organization must therefore learn to use the technological assets at their disposal, collecting critical information and data to communicate upward for strategic planning. An example of information management is a mid-level manager in the automotive industry who is responsible for recognizing global marketing potential. This individual must be capable of realizing the legal, demographic, social, technological, and economic considerations of entering a market; the manager will use effective research and delegation skills and also consolidate the information into a useful presentation using technological and communicative skills.
Katz postulates that the higher up in the organization an individual rises, the more conceptual skills (and fewer technical skills) are necessary. Senior managers need fewer technical skills because strategic decision-making is inherently more conceptual; mid- and lower-level skills such as data collection, assessment, and discussion are all more technical. Even so, all disciplines of management require a broad range of skill sets for effective business processes to occur.
Example
A technical skill for a front-line manager might include a working understanding of a piece of equipment: the manager must be able to coach the employee on its operation, as well as communicate to upper managers the basic functions of the machinery.


Conceptual Skills of Successful Managers
Conceptual skills revolve around generating ideas through creative intuitions and a comprehensive understanding of a given context.
Defining Conceptual Thinking
Conceptual skills represent one of the three skill sets identified by Robert Katz as critical to managerial success in an organization. While each skill set is useful in different circumstances, conceptual skills tend to be most relevant in upper-level thinking and broad strategic situations (as opposed to lower-level and line management). As a result, conceptual skills are often viewed as critical success factors for upper managerial functions.
Conceptual thinking is difficult to define but can generally be considered as the ability to formulate ideas or mental abstractions in the mind. Conceptual skills primarily revolve around generating ideas, utilizing a combination of creative intuitions and a comprehensive understanding of a given context (i.e., incumbent 's industry, organizational mission and objectives, competitive dynamics, etc.). When combined with a variety of information, as well as a degree of creativity, conceptual thinking results in new ideas, unique strategies, and differentiation.
Conceptual Skills in Upper Management
While all levels of management benefit from conceptual thinking, upper management spends the most time within this frame of mind (as opposed to thinking more technically—looking at and working with the detailed elements of a given operation or business process). Upper management is largely tasked with identifying and drafting a strategy for the broader operational and competitive approach of an organization.
This strategic planning includes generating organizational values, policies, mission statements, ethics, procedures, and objectives. Creating this complex mix of concepts to use as an organizational foundation requires a great number of conceptual skills—formulating concepts and predicting their effects in an organizational setting.
Conceptual Skills in Lower and Middle Management
While upper management may use conceptual skills the most, middle managers and lower managers must also both understand and participate in the generation of company objectives and values. Of particular importance are the abilities to communicate these critical concepts to subordinates and the ability to gather useful information to convey to upper management so that the concepts can evolve.
Collecting the results of conceptual thinking represent a feedback loop. Conceptual skills are important in empowering managers in all levels of an organization to observe the operations of an organization and frame them conceptually as an aspect of that organization's strategy, objectives, and policies. Conceptual thinking allows for accurate and timely feedback and organizational adaptability.
Interpersonal Skills of Successful Managers
A manager must be both analytical and personable when it comes to managing time, resources, and personnel.


Leadership
Over the years, the common definition of management has become less specific, as managerial functions can include staffing, directing, and reporting. Modern companies have fewer layers of management, as these companies instead rely on the delegation of responsibilities and authority to achieve goals. As a result, businesses often speak of leading or guiding, people rather than giving instructions for every action. Leading people represents a central component of human skills.

Under this definition of management, leadership is actually a subcategory of management. Management characterizes the process of leading and directing all or part of an organization, often a business, through the deployment and manipulation of resources (human, financial, material, intellectual or intangible).

Interpersonal skills differentiate a manager from a leader. A manager is simply manipulating resources to achieve a given objective, while a leader appeals to the human side of employees to generate creativity and motivation.

These concepts of "manager" and "leader" can be distinguished within a team setting. A team leader who is unconcerned with team members' needs or who has a personal agenda that is perceived to be more important than the team's goals is more of a manager than a leader and may alienate team members. Conversely, team leaders who are admired and loyally followed are those who show concern for the team members as individuals with real needs and who place their team above their own personal agendas.


Communication
Realistically, most organizations need leaders who can view their teams analytically and objectively, evaluating inefficiencies and making unpopular choices. However, it is misleading to think that a manager has to be distant from or disliked by subordinates to execute these responsibilities. Creating a healthy environment conducive to development, criticism, and higher degrees of achievement simply requires strong human skills, particularly in the realm of communication.

Interpersonal skills and communication skills lie at the center of human-based managerial considerations. Good managers understand not only what they are trying to say but also the broader context and implications of saying it. Empathy, self-reflection, situational awareness, and charisma all play integral roles in communicating effectively and positively.


Experiential Learning for Managers
Defining Experiential Learning
Aristotle once said, "For the things we have to learn before we can do them, we learn by doing them." Experiential learning is the process of making meaning from direct experience. The experience can be staged or left unstructured. David A. Kolb, an American educational theorist, helped to popularize the idea of experiential learning, drawing heavily on the work of John Dewey, Kurt Lewin, and Jean Piaget. Kolb's work on experiential learning has contributed greatly to expanding the philosophy of experiential education.
The Process
Experiential learning involves learning through reflection on doing; it is often contrasted with rote or didactic learning. Experiential learning is related to—though not fully synonymous with—experiential education, action learning, adventure learning, free-choice learning, cooperative learning, and service learning.
Experiential learning focuses on the learning
process
for the individual (unlike experiential education, which focuses on the transaction between teachers and students). An example of experiential learning is going to the zoo and observing and interacting with the zoo environment, as opposed to reading about animals in a book. It is the difference between firsthand knowledge and hearing or reading about other people's experiences.
Experiential learning does not require a teacher; instead, it draws solely upon the process of making meaning based on direct individual experience. According to Kolb, knowledge is continuously gained through both personal and environmental experiences. While gaining knowledge is an inherent process that occurs naturally, certain elements must be present for a genuine learning experience to occur. Kolb states that to gain genuine knowledge from an experience requires the following abilities:
the learner must be willing to be actively involved in the experience
the learner must be able to reflect on the experience
the learner must possess and use analytic skills to conceptualize the experience
the learner must possess decision-making and problem-solving skills in order to use the new ideas gained from the experience
Experiential learning can be a highly effective way to learn new skills, new attitudes, or even entirely new ways of thinking. It engages the learner on a more personal level by addressing the needs and wants of the individual. It requires initiative and the ability to self-evaluate. To be truly effective, it should span goal-setting, experimenting and observing, reviewing, and planning future action.
Role in Business
Experiential learning plays an important role in business learning and managerial training. It is an integral component to many training programs, as it engages both the intellect and the senses much more comprehensively than lectures, books, or videos. For example, a computer simulation of change management can be a useful application of experiential learning, as can a board game simulating operational efficiency in a factory.
Business skills are inherently intangible, evading the capture of most textbooks without external materials to create context. Management spans a wide variety of personal capabilities and requires different skills based upon the specific role and context, making it a challenging subject to teach. Motivating others and navigating a complex organizational structure are not skills individuals can learn via textbooks; experiential learning in business may therefore serve a useful focal point for study.
This principle is particularly noticeable in business programs that utilize a cohort or group-based educational structure for students. These programs enable students to select leaders and actively practice delegation, communication, and multitasking as they work on projects. Case studies offer another effective method of capturing these complex managerial skill sets in a real-life setting. Cases place students in the shoes of managers and allow them to experience and apply the variety of skills and considerations necessary for success in a specific situation and industry.
practice questions
Licenses and Attributions